textile tapestry
mixed media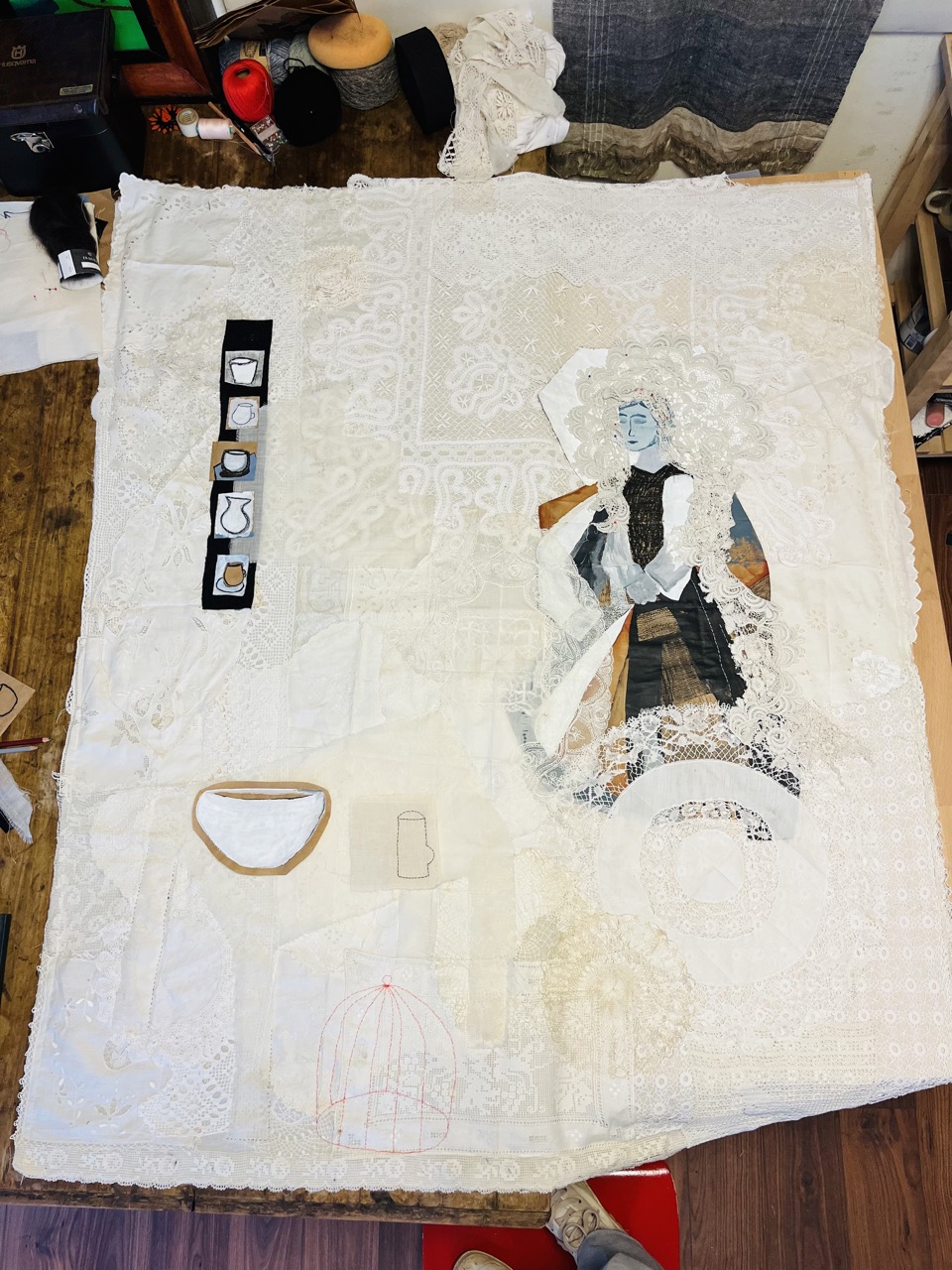 Lace tapestry, 2023 (work in progress)
mixed media
200 x 150 cm
working on a lace tapestry
using lace handmade by women decades ago
to pass the time at home
and craft something that would last
in this tapestry, it will last
into the future
apron tapestry - cups and spoons (2023)
mixed media
67 x 53 cm
apron tapestry - mackerel, pots and pans(2023)
mixed media
67 x 53 cm
Laced head sculpture, 2022
50 x 40 cm, textile collage
design icons, an ode to the broom,
2021
mixed media
150 x 100 cm
The broom is a simple tool made and shaped by many different cultures and generations of people around the world. Its archetypal form is universal and stayed the same throughout its evolution. It is a unique piece of design, created by humanity.
And while it is an ordinary everyday object, it holds spiritual reference to the mystic and the sacret in cultures of all continents. It is believed to not only clean the home of dust, but to cleanse it from evil spirit and sin. It can even serve as a getaway for women to fly away from their domestic tasks, resulting in her image as a witch.
design icons, an ode to the broom
places the age-old broom as a design icon on the wall. It is a universal symbol for simplicity, craft, tactility, spirituality, meaning and our shared human experience.
Ode to the spoon, 2023
30 x 25 cm, textile collage
series of textile collages
including removable broom

from the series:
design icons, an ode to the broom
2021

mixed media, textile
150 x 60 cm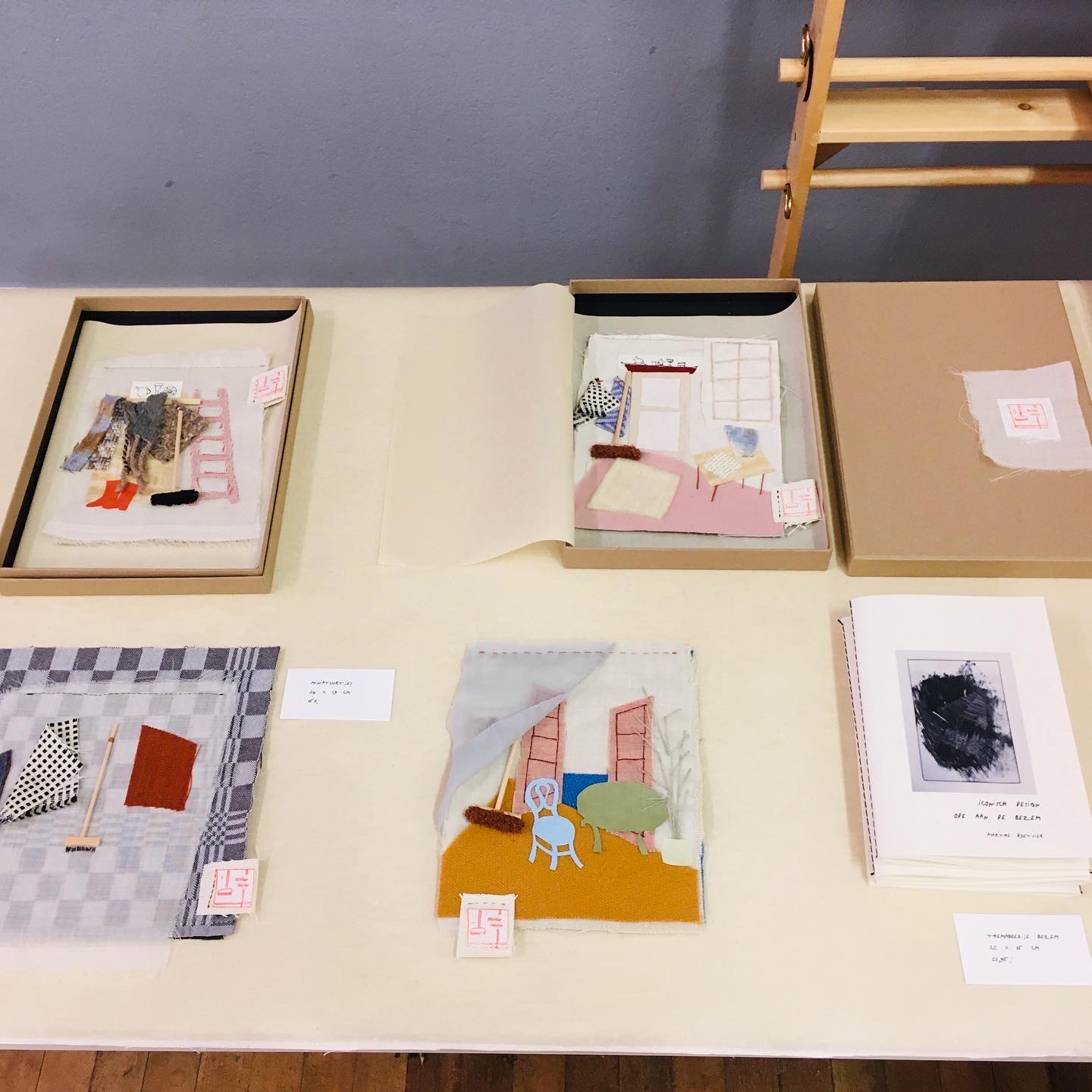 Broom tapestry miniatures
24 x 19 cm, textile collage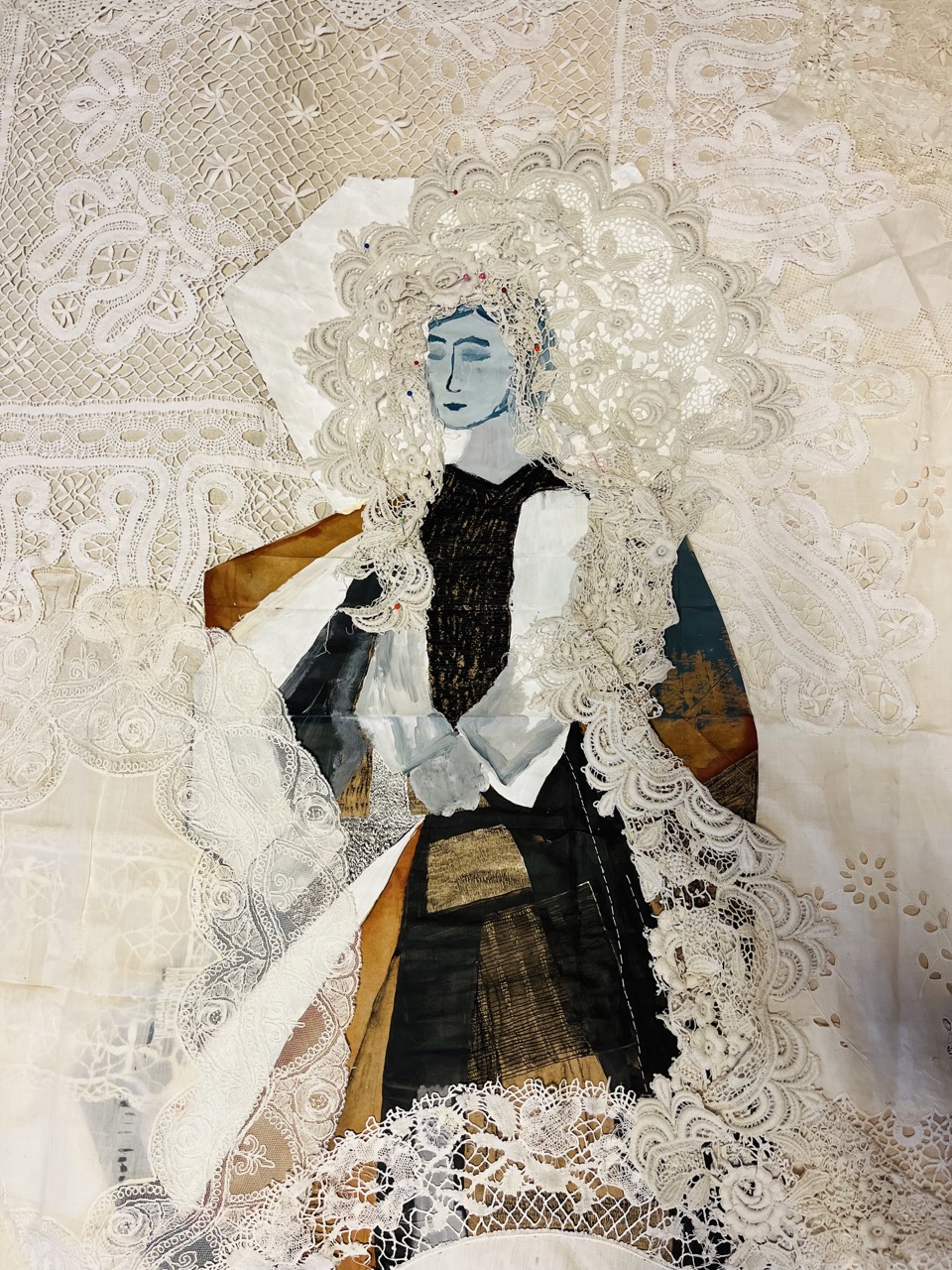 mini apron tapestry - Matisse's coffee table (2023)
mixed media
26 x 24 cm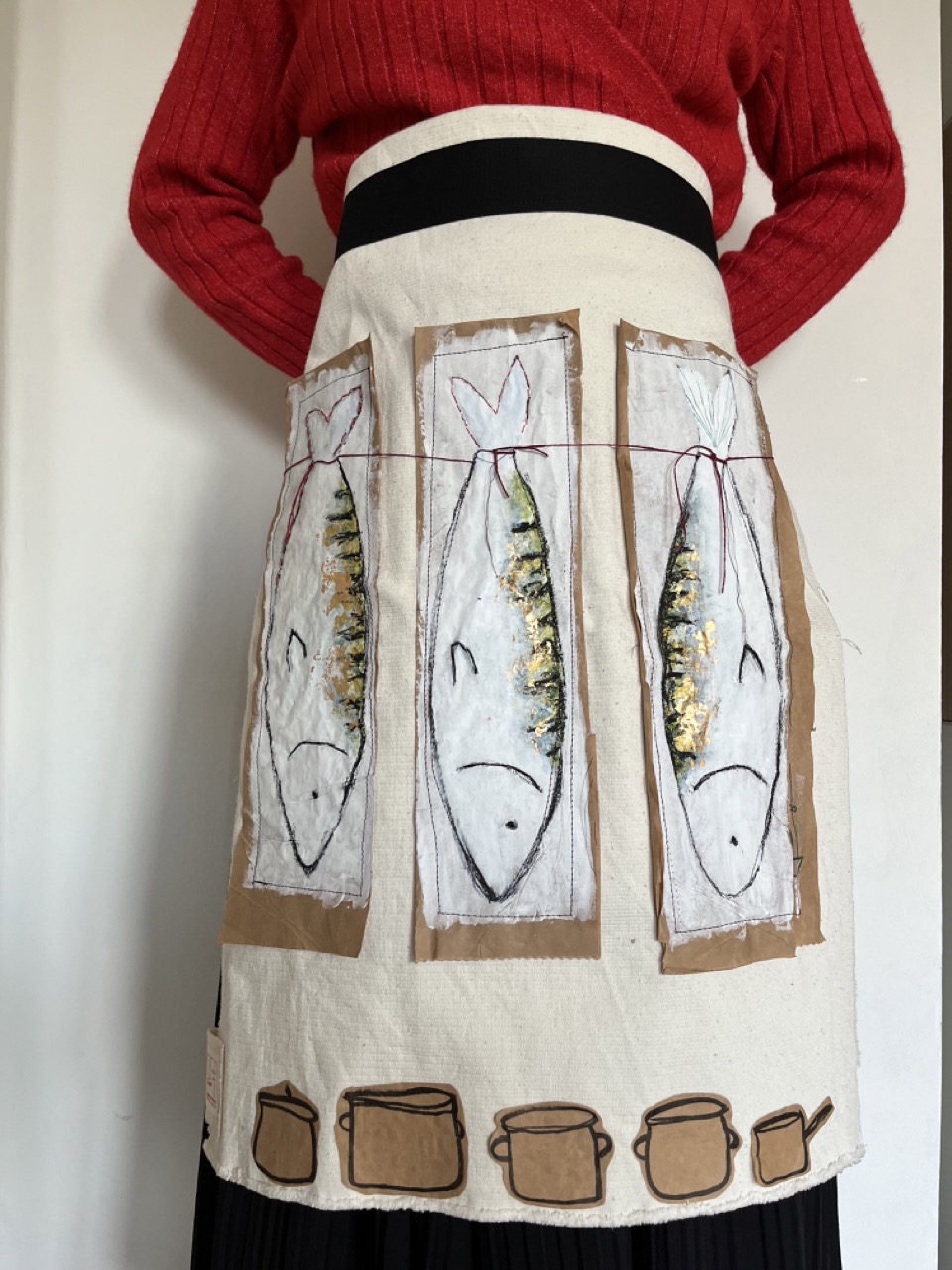 apron tapestry - mackerel, pots and pans(2023)
mixed media, 67 x 53 cm
apron tapestry - the beauty of fuction (2023)
mixed media
67 x 53 cm
Miniature
#16
Marteau et Bloc, 2023
24 x 19 cm, textile collage
Design Icons, an ode to the broom
Booklet, 2021
textile miniatures
textile, mixed media
24 x 19 cm
#1 petit intérieur rose, 2021 (sold)
24 x 19 cm, mixed media
from the series:
design icons, an ode to the broom
#6 petite chambre blue, 2021 (sold)
24 x 19 cm, mixed media
from the series:
design icons, an ode to the broom
#10 tapisserie avec un petit balai, 2021 (sold)
24 x 19 cm, mixed media
from the series:
design icons, an ode to the broom
#4 petit intérieur d'été, 2021 (sold)
24 x 19 cm, mixed media
from the series:
design icons, an ode to the broom
# 14 petit intérieur japonais, 2022 (sold)
24 x 19 cm, mixed media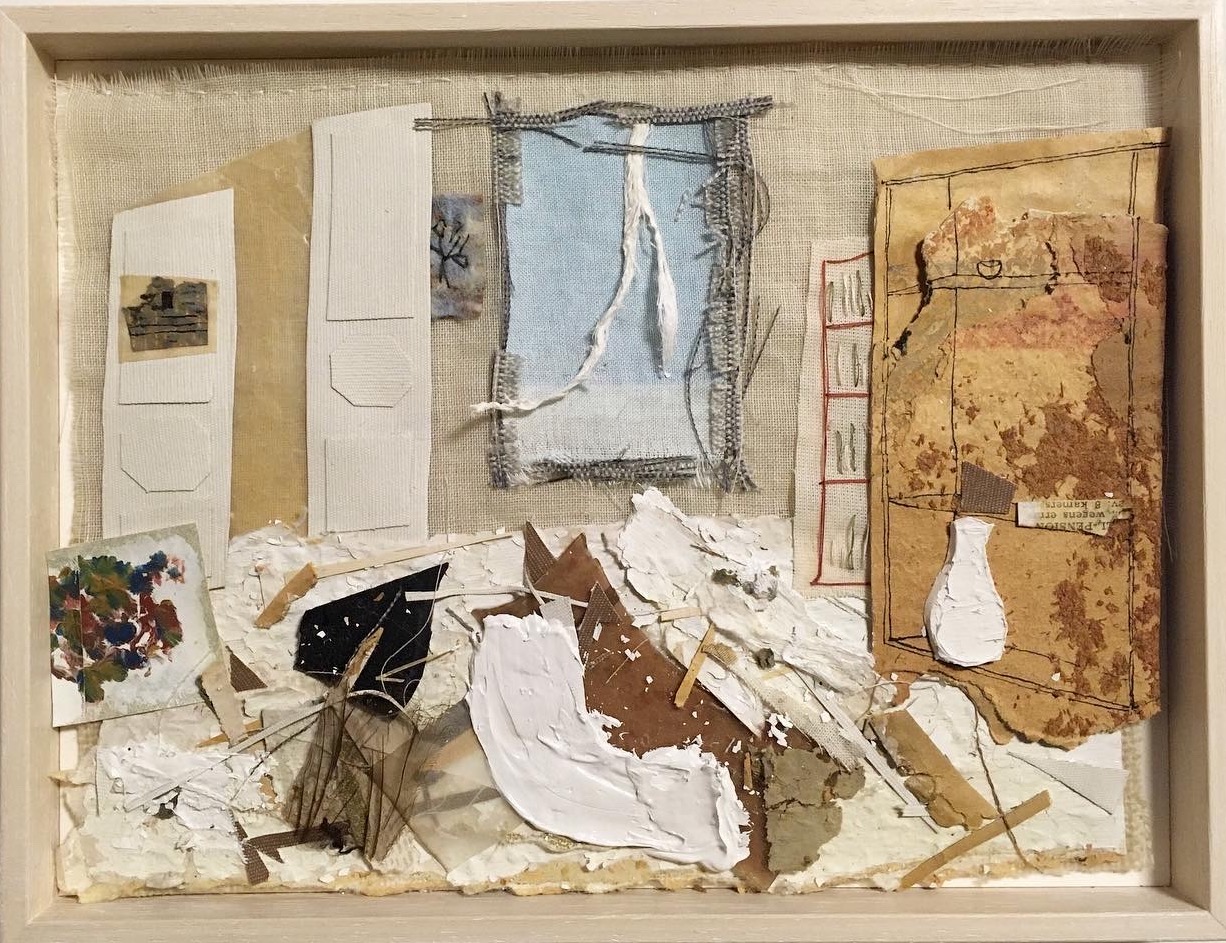 #13
Khardiv Region State Administration -
destroyed interior, 2022 (sold)
19 x 24 cm, mixed media
#15 petit atelier de Han, 2022 (sold)
24 x 19 cm, mixed media
Woman, 2022 (sold)
24 x 19 cm, mixed media
#16
collage or mariée, 2022
24 x 19 cm, mixed media
#2 objet de collection, 2021(sold)
24 x 25 cm, mixed media
from the series:
design icons, an ode to the broom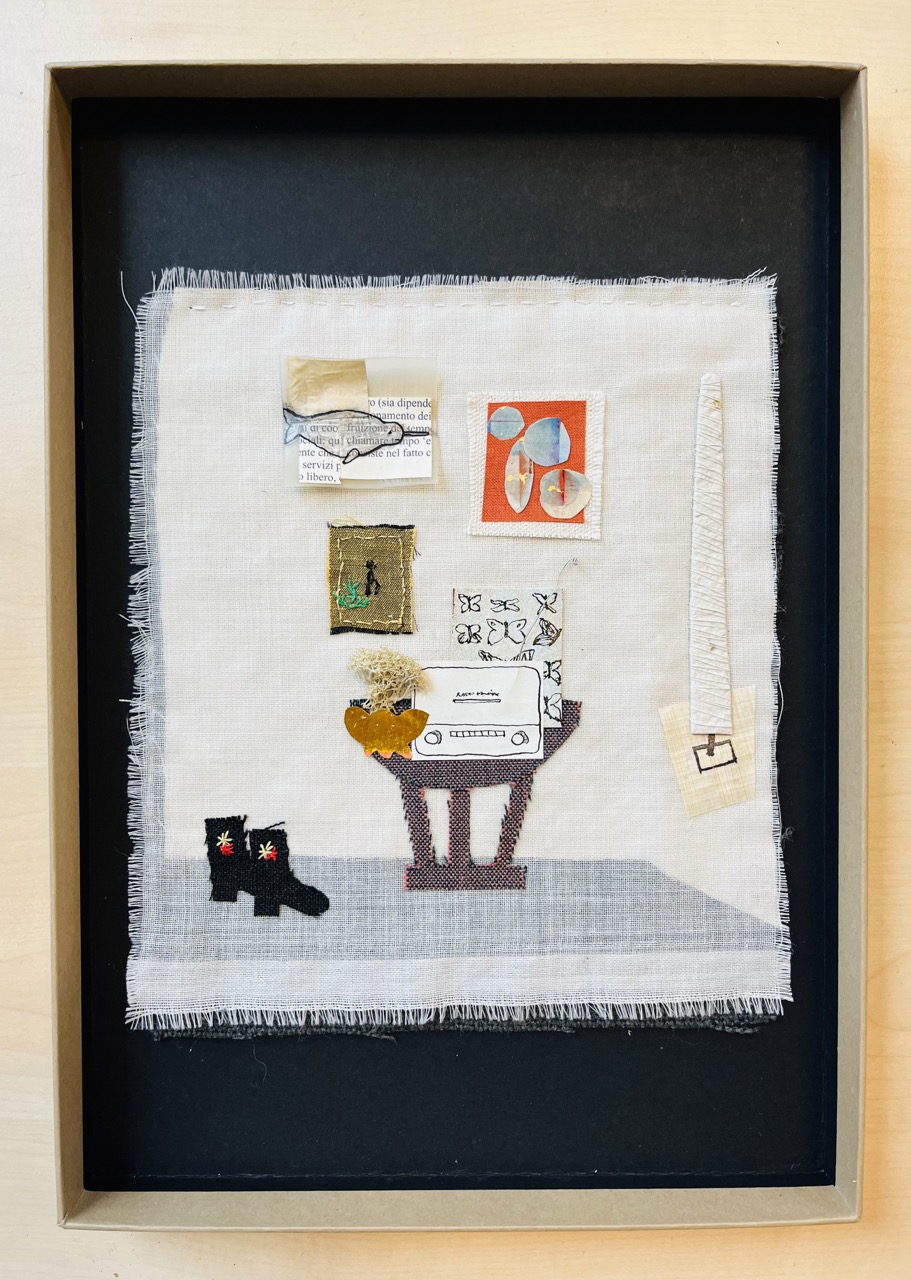 #17 chambre de Binkie, 2023 (sold)
24 x 19 cm, mixed media
#8 intérieur tableau rose, 2022
24 x 19 cm, mixed media
#11 collage d'or, 2022
24 x 19 cm, textile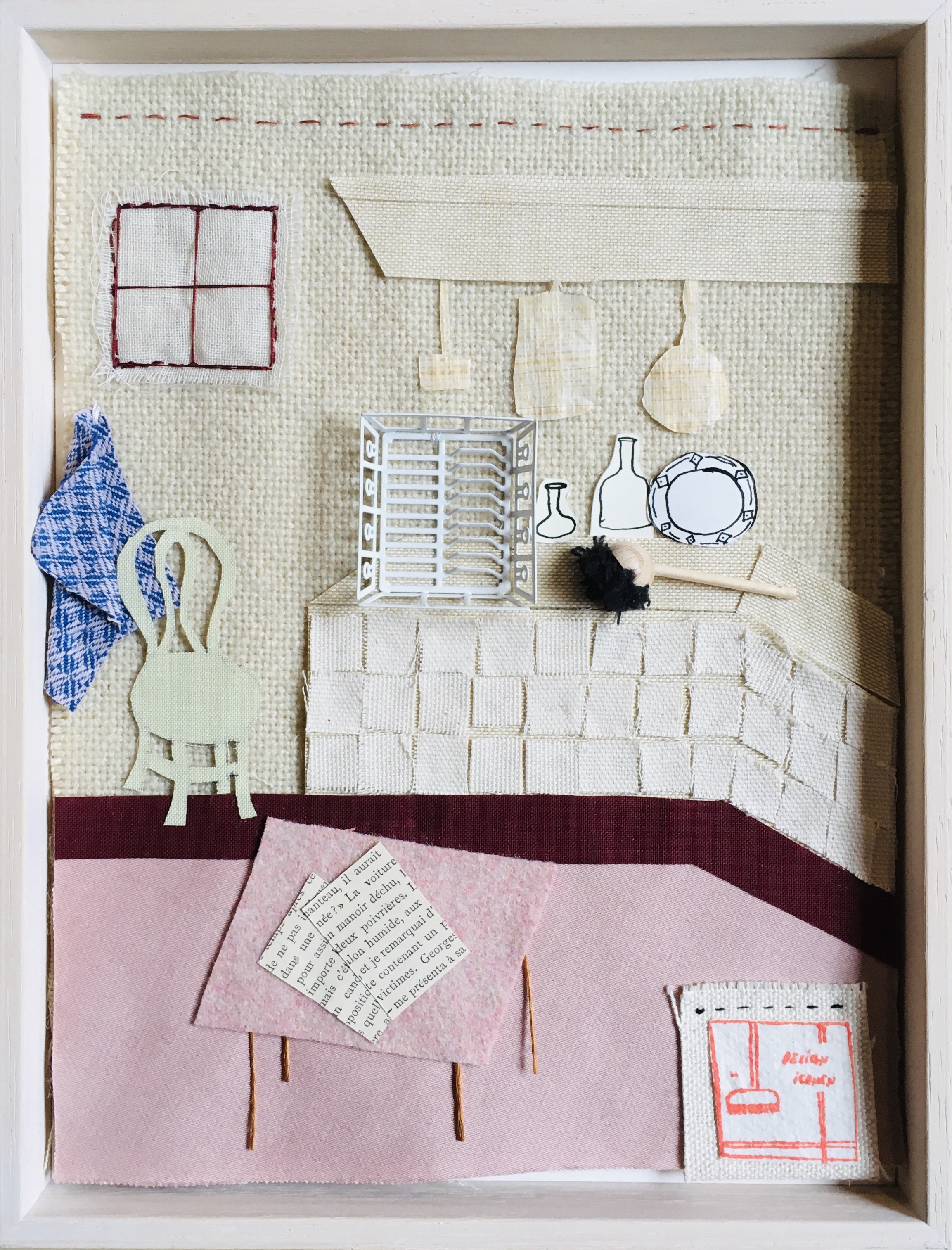 #5 la petite vaisselle, 2021 (sold)
24 x 19 cm, mixed media
# 12 la petit fenêtre rose, 2022
24 x 19 cm, mixed media
#
9 palais d'argent, 2022 (sold)
24 x 19 cm, mixed media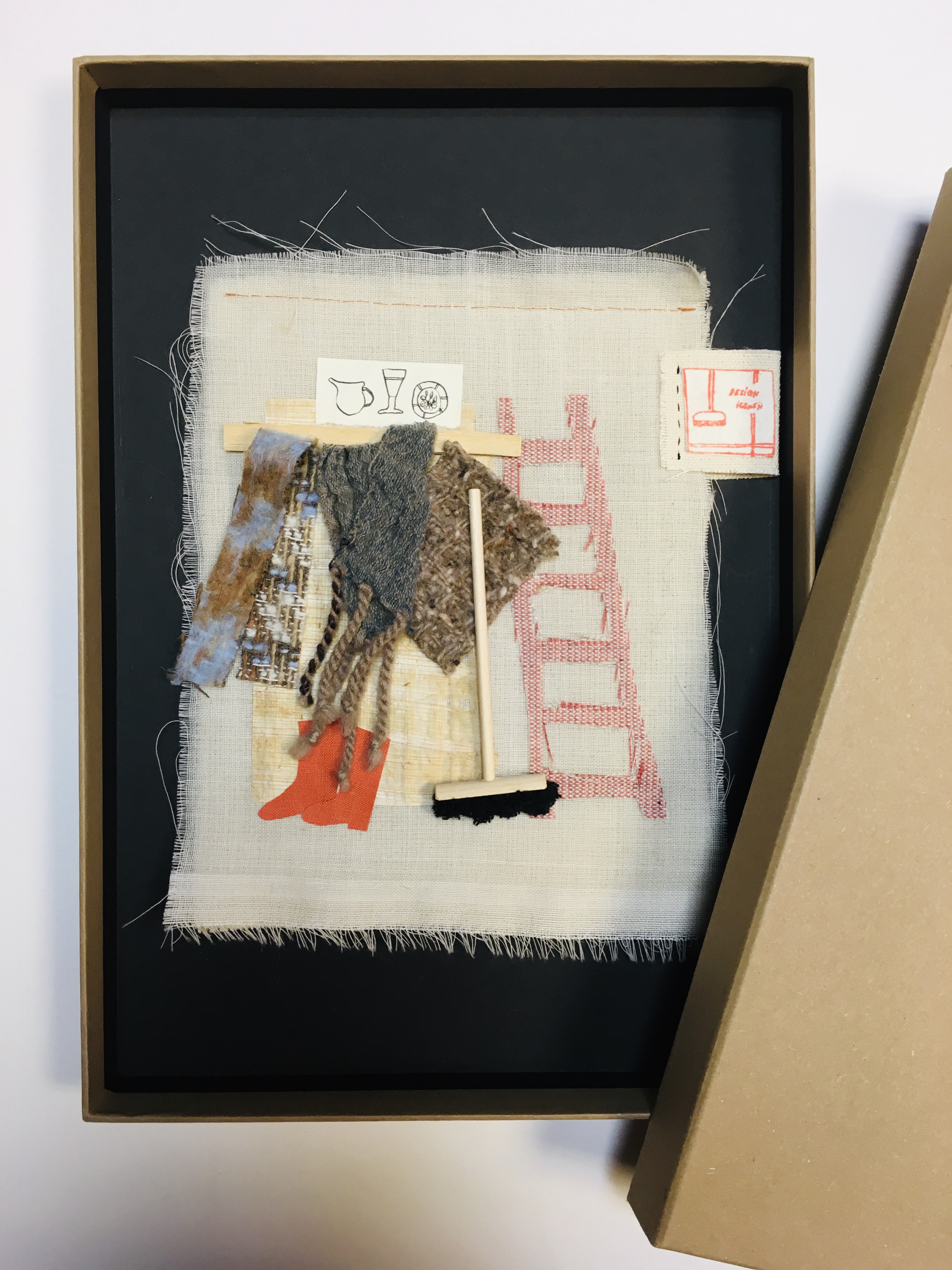 #3 petit intérieur automne, 2021 (sold)
24 x 19 cm, mixed media
from the series:
design icons, an ode to the broom
Offering, 2022
30 x 12 cm, mixed media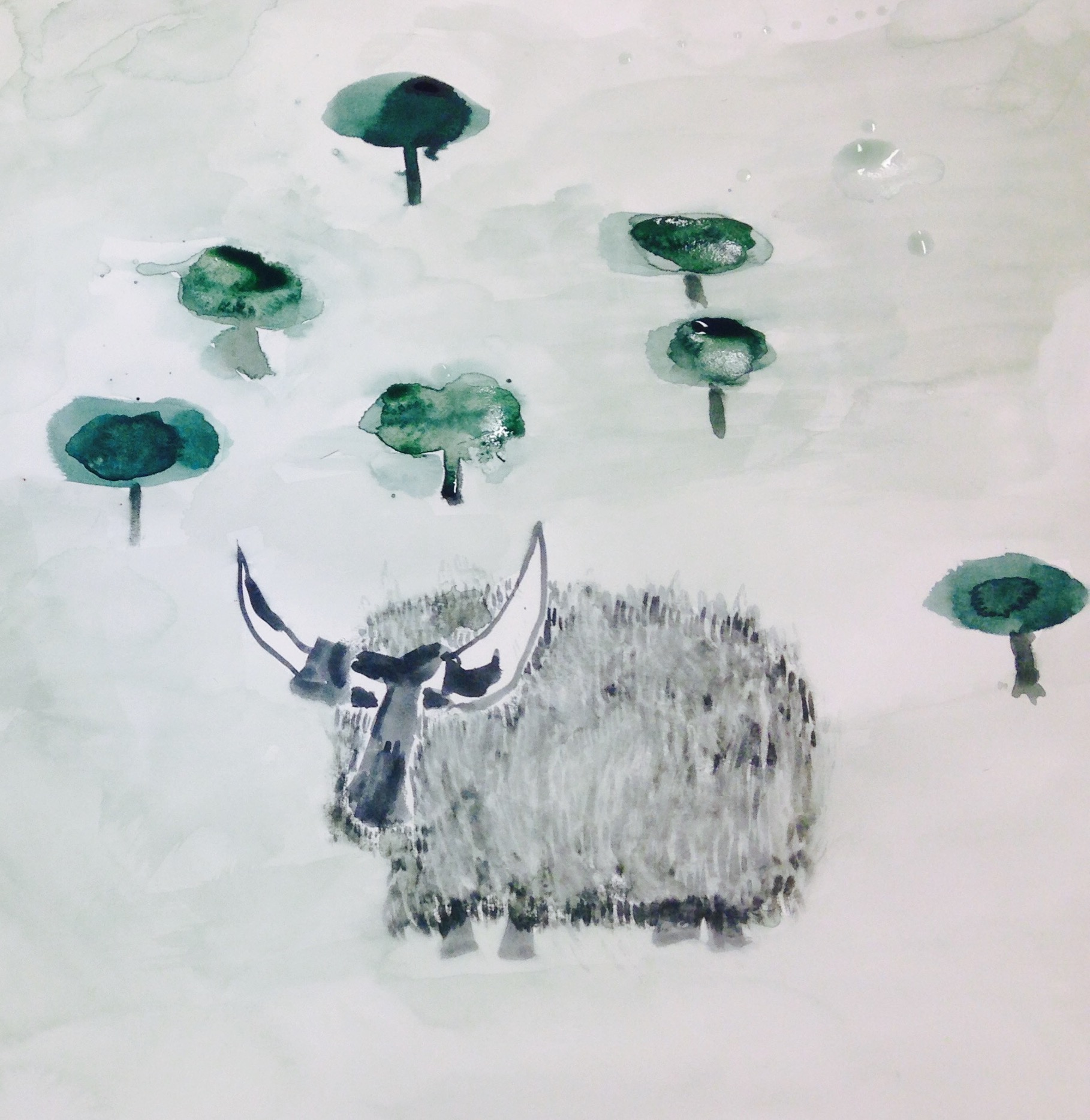 Trend- and inspiration books:
themed, color and material,
inspiration, dessin


Trendbook: new freedom in ecstacy
Trendbook: decomposing
In the mood for love
Inspiration book
World-as-organism
Trendbook
Magisch realisme
Trendbook
Black-and-white cult
Trendbook
Neri, 2023, 21 x 15 cm, aquarel en bladgoud op rijstpapier
Visuals for the album Manifold by Ben van Gelder (2023)
Visuals for LP Manifold by Ben van Gelder (2023)
Poster for the album Manifold by Ben van Gelder (2023)
Baars & Bloemhoff - Reduction to form and color
Baars & Bloemhoff - Neoplasticism
Baars & Bloemhoff - Pink Pointilism
Baars & Bloemhoff - Mondriaan Squares
Rothko's color blocks
Moodboard human tools
Postcards and giftbox Manifold by Ben van Gelder (2023)
Poster for the album Manifold by Ben van Gelder (2023)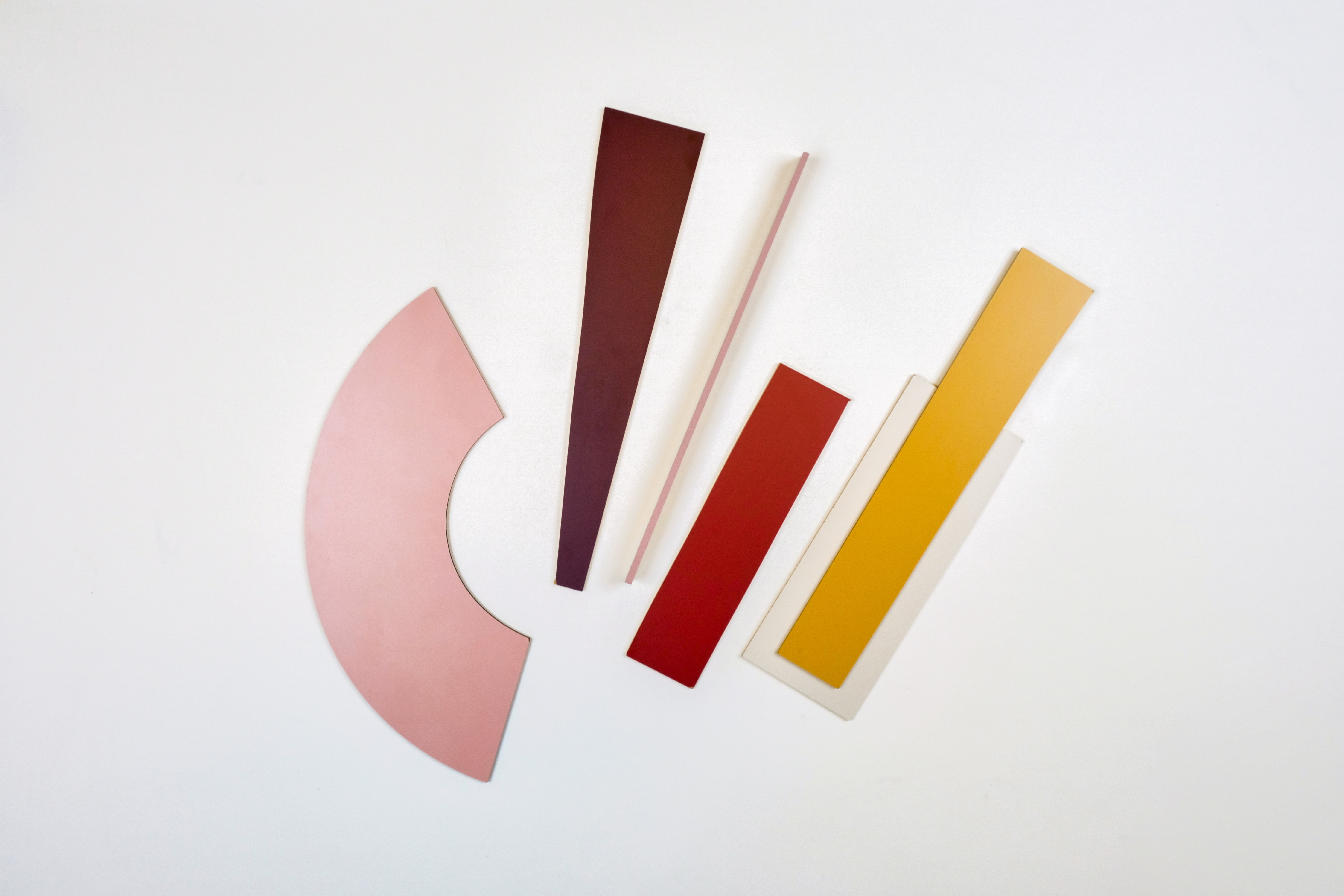 Baars & Bloemhoff - Malevich' shapes
Baars & Bloemhoff - Candy Cubism
Baars & Bloemhoff - De Stijl drawing table
Baars & Bloemhoff - Kandinsky's desk
Mondriaan in marble
Moodboard soft egg shapes